---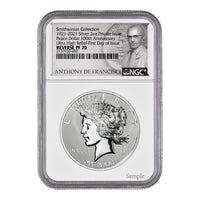 Anthony de Francisci originally submitted one obverse and two reverse designs for this coin, which celebrated the end of World War I, hence the name "peace" dollar. The unused reverse design was lost to time, until it was found almost a century later in one of de Francisci's sketchbooks.
This piece features his original unedited obverse and the unused reverse design. This obverse uses Roman numerals for the date and Lady Liberty's face is slightly altered. The reverse design displays an eagle breaking a sword with its wings spread and underneath you see the Smithsonian's logo and the year in Roman Numerals.
With a mintage of just 1,921 this piece is a must have! 
This example has been certified in a perfect Reverse Proof 70 by NGC and is designated to be from the Smithsonian Collection for the 100th Anniversary of the Peace Dollar.
Every coin comes in a black Smithsonian Institution velour bag with booklet & COA.